2021 Accord Hybrid in Woodbridge, Ontario
2021 Honda Accord Hybrid in Woodbridge, Ontario
With good looks, class-leading safety technology, and superior fuel economy, the Accord Hybrid in Woodbridge, Ontario, may be the car you've been looking for. The Honda Accord Hybrid is a favourite among hybrid vehicles for its sleek design, many amenities, and performance. If you are thinking about getting the 2021 Hybrid for your next car, our dealership has all the information you need to know to make an informed purchase.
2021 Honda Accord Hybrid in Woodbridge, Ontario
2021 Honda Accord Hybrid in Woodbridge, Ontario
2021 Accord Hybrid Interior
2021 Accord Hybrid Interior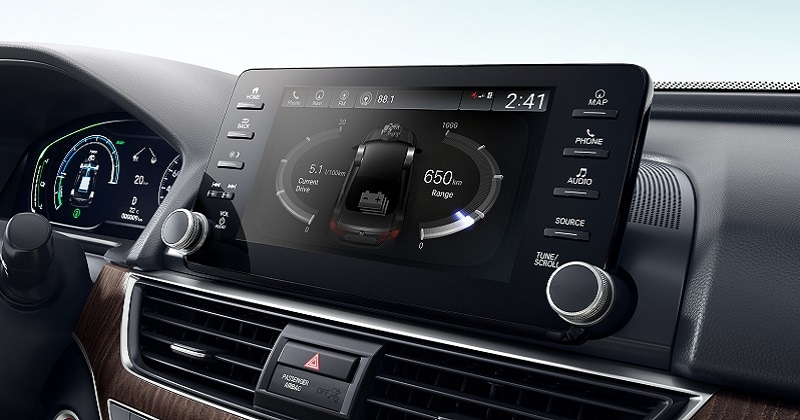 From cutting-edge technology to large and comfortable seats, there are many features to look forward to on the inside of your Honda Accord Hybrid. The Accord comes equipped with a driver information colour display that provides real-time information on the car's performance. A standard acoustic windshield translates to a quiet and comfortable ride. Dual-zone climate control comes standard, and the cabin has an air filtration system. The cargo area has plenty of lighting, and there is additional storage space in the centre console. The Hybrid has a display audio system with satellite navigation and voice recognition technology. Wireless phone charging and Bluetooth are also standard. The Honda also has several safety amenities, including a 360 camera and dynamic gridlines. Push-button start and proximity entry are other notable features of the Honda Accord Hybrid's cabin. A heated steering wheel and heated seats make driving on colder days more enjoyable and relaxing.
2021 Accord Hybrid Exterior
2021 Accord Hybrid Exterior
The Hybrid has body-coloured exterior mirrors and door handles. It has heated side mirrors as well that include LED turn signal indicators for additional safety. Folding side mirrors are also included. A chrome-accented grille gives the car a sharp look, and it has a different shutter grille on the front. LED daytime running lights are included with the Accord Hybrid as well. Safety and visibility are also accounted for with LED fog lights and brake lights. A rear window defroster system comes included with the Honda Accord Hybrid, and it also has rain-sensing windshield wipers.
The 2021 Accord Hybrid Performance
The Honda Accord Hybrid uses a 2.0L four-cylinder engine for power. A lithium-ion battery also comes powering the 2021 Honda Accord Hybrid. It comes with an automatic transmission with a front-wheel drive. The 2021 Honda Accord Hybrid has several drive modes that allow you to optimize performance and efficiency. You can choose between an ECON mode to save fuel or a Sport mode when you want an extra boost of power and speed. The Accord comes with paddle shifters on the steering wheel that make for even more fun and engaging ride.
2021 Honda Accord Hybrid Reviews
While you can learn about the features and performance characteristics of the Honda Accord Hybrid through our website, reviews are another great way to learn more about the car before you decide to buy one. Reviews for the Honda Accord Hybrid provide more details about its performance capacity, interior amenities, cost of maintenance, and more. When you read reviews, you'll learn that the Accord Hybrid gets exceptionally high scores for its quiet and composed ride and smooth handling. The 2021 Hybrid also has a spacious and well-designed interior with many high-end components. The Accord naturally excels in safety, which is one of Honda's most notable strengths, and it has a punchy accelerator from its hybrid ending. The Honda Accord Hybrid also stands out for its abundance of user-friendly features that make your outings in the Hybrid more pleasant and enjoyable.
Contact our Honda Dealer Today
If you want to learn more about the 2021 Honda Accord Hybrid and browse our new inventory, contact us for more details. Our knowledgeable staff can answer all your Honda Accord Hybrid questions and help you find a suitable trim level. When you decide that it's time to buy a car, our finance centre has all the resources and information required to assist with your car payments.