Time to Replace your Wiper Blades?
Time to Replace Your Wiper Blades?
If you notice that your wipers are not performing as they should be whenever you try to wipe off snow or rain from your windshield, it might be time to change your wiper blades.
Usually, wiper blades only last six months to a year, but they should be replaced sooner if you notice a difference or hindrance in your driving visibility. Wiper blades will not work as intended when they are not making proper contact with the windshield.
They can begin showing signs of needing a replacement in a few different ways. If they start juddering, chattering, leaving streaks, leaving gaps, smearing, or squeaking, then it is time to get them replaced. At Number 7 Honda, we can help! Our expert technicians use genuine OEM parts to fix any and all problems your vehicle may be having, and that includes wiper blade replacement.
Windshield wiper blades are made of rubber which degrades over time, thus rendering them less effective the longer you use them. You should get into the habit of checking your wipers regularly for any degradation and ensure that they are working as they should be. Leaving ineffective wipers on your vehicle can cause significant visibility issues when it's raining, snowing, or you need to clean off your windshield of salt or debris.
If you've noticed that your windshield wipers aren't working as they should be, contact us today to book a wiper replacement service appointment. At Number 7 Honda, we are proud to serve customers in Woodbridge, Vaughan, Brampton, and Toronto. Our knowledgeable in-house technicians will be happy to provide you with quick and efficient service to get back to seeing clearly through your windshield in no time.
Parts Request
* Indicates a required field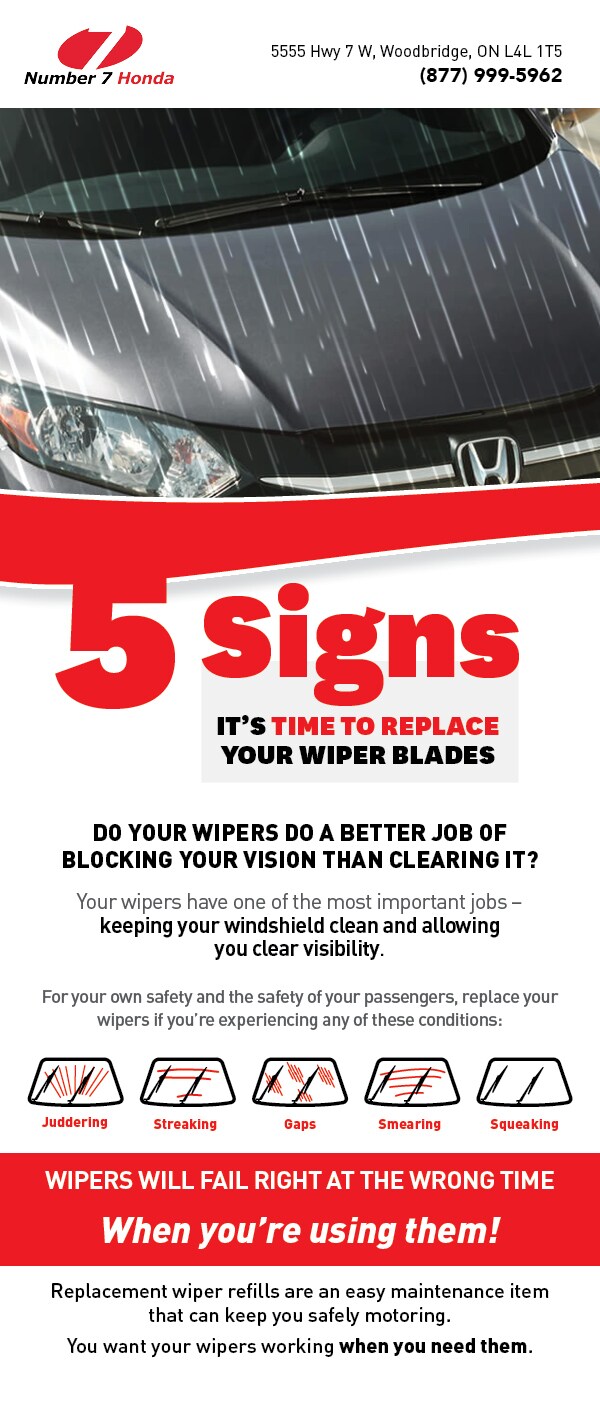 Hours
Monday

9:00 AM - 8:00 PM

Tuesday

9:00 AM - 8:00 PM

Wednesday

9:00 AM - 8:00 PM

Thursday

9:00 AM - 8:00 PM

Friday

9:00 AM - 6:00 PM

Saturday

9:00 AM - 6:00 PM

Sunday

Closed