Buy your Car Online at Number 7 Honda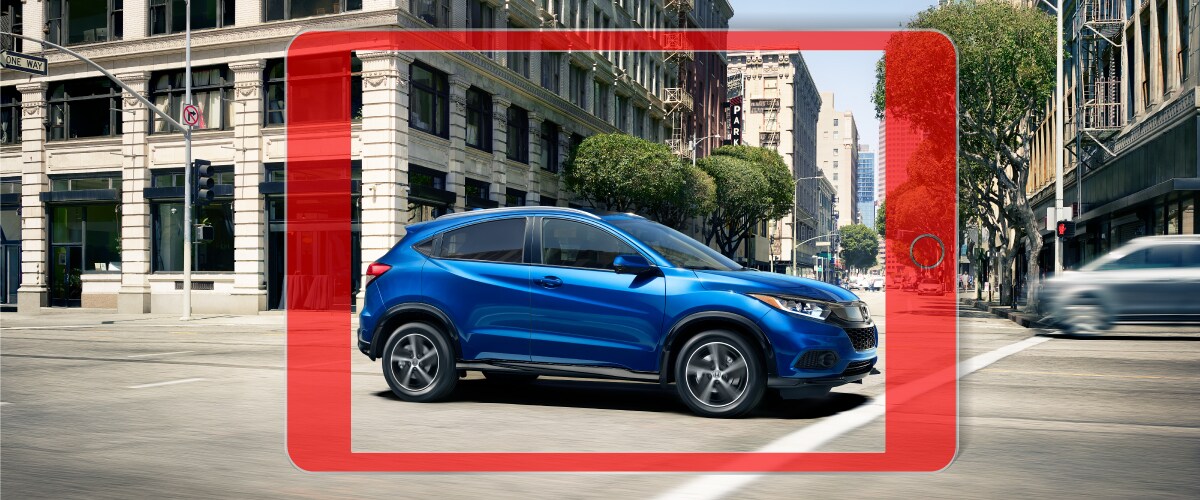 Buying a new or pre-owned car can sometimes be challenging. The purchase processes involved can often be slow and tedious, making it time-consuming for some to finalize their vehicle purchase. However, technology has made things easier. At Number 7 Honda, we want to make the process of buying your next new car as seamless as possible.
If you have a busy schedule and prefer to buy your car online in Woodbridge, Ontario, you should first find an authorized dealership that can provide online acquisition services. Considering buying a car is a significant investment, it is essential to find a dealership that can be trusted.
Number 7 Honda is not only the preferred Honda dealership in Woodbridge, Ontario, serving Vaughan, Toronto, Brampton, and surrounding areas; we also offer Shopping Tools that allow you to buy your new car online.  Whether you are searching for a new or pre-owned vehicle, you can find the car made just for you at our dealership. Contact us today and submit your online finance application. We are eager to make your auto dreams come true.
How Can You Buy A Car Online?
Although you may be familiar with online shopping, you might still have questions about buying a car online. Below are some steps to help guide you through the process.
Hours
Monday

9:00 AM - 8:00 PM

Tuesday

9:00 AM - 8:00 PM

Wednesday

9:00 AM - 8:00 PM

Thursday

9:00 AM - 8:00 PM

Friday

9:00 AM - 6:00 PM

Saturday

9:00 AM - 6:00 PM

Sunday

Closed
Step 1: Browse Our New And Used Inventory
You don't have to visit our dealership to view available cars for sale. All you need to do is visit our website and browse our extensive inventory of new and used vehicles in stock. You will find all the latest Honda models and earlier popular Honda models listed right here. Consider the price of each model and try to choose one that suits your budget.
Take your time to go through each vehicle of interest before making your final decision. Analyze the trim, available or built-in features, and engine specs of each model to help you decide which car is right for you.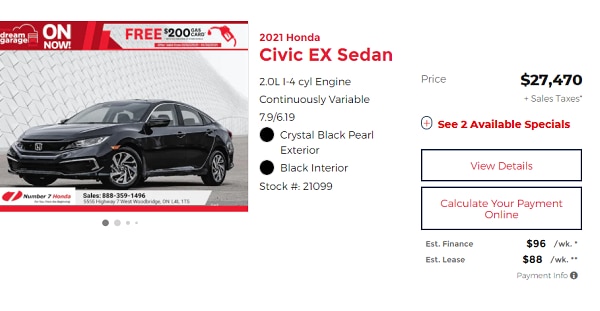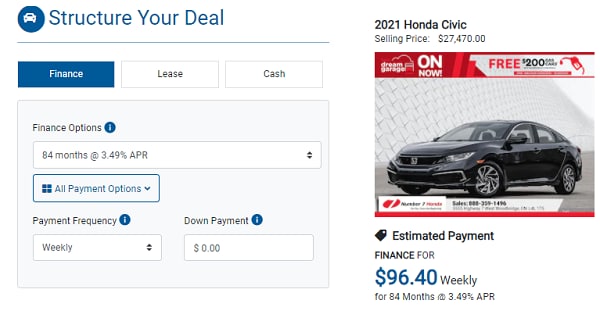 Step 2: Calculate Your Payment Online and Structure Your Deal
After selecting your car, the next step is to understand your monthly obligations and the vehicle's price. You will see the Payment Calculator option on the vehicle page and under our Shopping Tools tab. When utilizing this service, you can determine how much you will pay per month and compare financing options.
Step 3: Trade-in value
If you currently own a car and would like to sell it, we can take it off your hands at a good price and apply its value to your new car's purchase price. Please provide us with details of the vehicle, including the model and make, year of manufacture, modifications, mileage, and other information you may think is essential for us to know.
Providing accurate information will help us to assess the proper value of your vehicle. That's why it is essential to be as detailed as possible.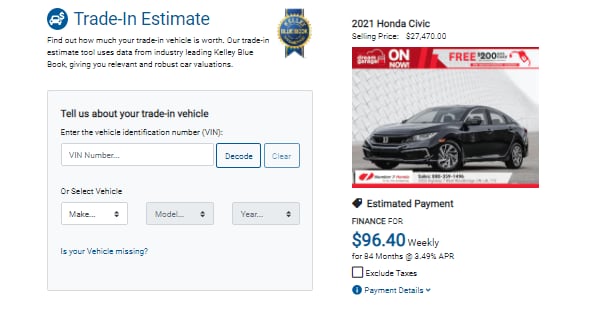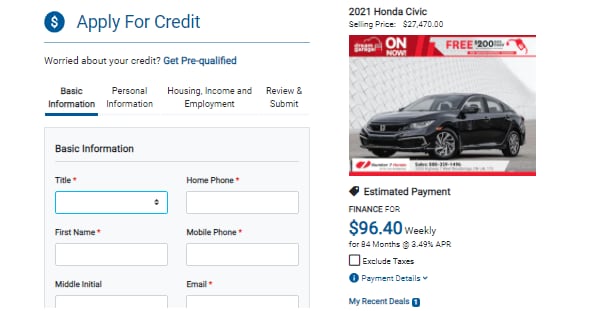 Step 4: Apply For Credit, Sign, and Scan Documents Online
We have made online financing pre-approval simple. Simply complete an online application without the hassle of filling out paperwork at our location. After submitting your loan application, scan and upload all relevant documents online for our Finance Team to review. Be sure that you upload all the necessary documents and avoid delaying the process.
Step 5: Book An Appointment to View Your New Car
Now that you have decided on the car you want and pre-qualified for financing, you can now organize your new car's delivery or schedule an appointment to come in for a test drive. You can arrange to visit our dealership or request for virtual viewing before delivery.
We are open to any option that is preferable for you. However, please contact us before arrival so that our Number 7 Honda Team can ready your vehicle before you get here. Our objective is to ensure that the car you want is sanitized and ready for final approval.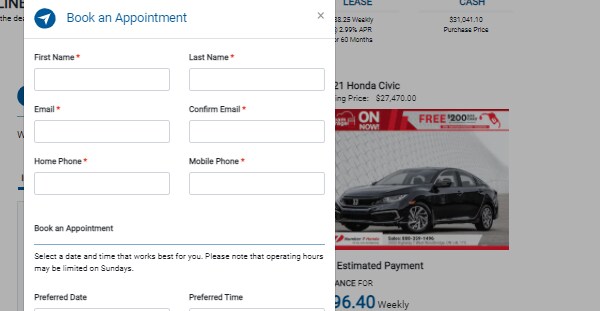 Make an Inquiry
* Indicates a required field