Tire Storage | Batteries | Oil & Filter Change | Brake Repairs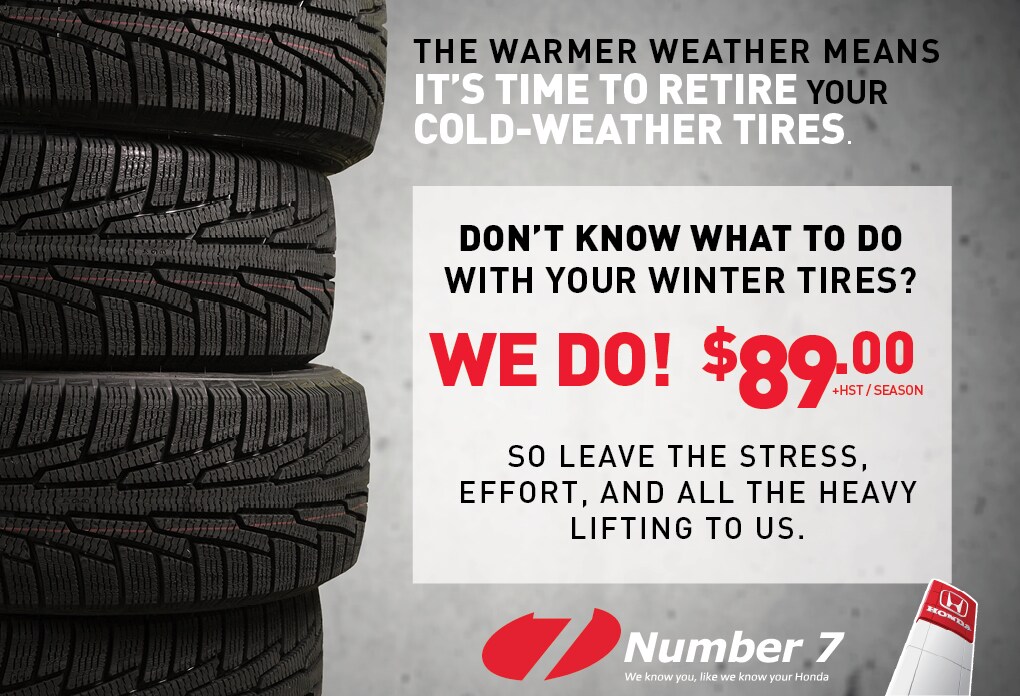 Contact Us Now!
Winter has Ended, it's Time to Put Those Winter Tires Away
With the winter seasons coming to an end, it's the right time to safely store your Honda tires at the tire storage facility at Number 7 Honda of Woodbridge, Ontario. Serving the Woodbridge, Vaughan, Brampton and Bolton areas, Number 7 Honda offers tire storage to keep your winter tires securely stored for the next season. We'll also perform an inspection of your winter tires to ensure they're adequate and ready for the next season, Contact Us today to learn more about tire storage options. While you're deciding to store away your winter tires, it's also a good idea to start shopping for your all-season tires to get you through the next few seasons. Visit our online tire store today to choose the tire that's right for your vehicle and our expert parts and service technicians will happily assist you.
Hours
Monday

7:30 AM - 6:00 PM

Tuesday

7:30 AM - 6:00 PM

Wednesday

7:30 AM - 6:00 PM

Thursday

7:30 AM - 6:00 PM

Friday

7:30 AM - 5:00 PM

Saturday

8:00 AM - 4:00 PM

Sunday

Closed