The ALL-NEW 2023 Honda HR-V in Woodbridge, Ontario

The All-new 2023 Honda HR-V in Woodbridge, Ontario
The all-new 2023 Honda HR-V offers versatility, performance, and style. This subcompact crossover SUV will debut its restyled exterior and great interior features this year. The 2023 HR-V is surprisingly roomy and promises great fuel efficiency. It comes with a host of innovative technology features and driver-assist systems that enhance convenience and safety. Number 7 Honda is a premier dealership in Woodbridge, Ontario. We have the latest Honda vehicles and are excited to feature the 2023 Honda HR-V in our new Honda inventory once it launches. Here is a detailed review of the upcoming 2023 Honda HR-V.
2023 Honda HR-V: What's New?
The new 2023 Honda HR-V comes with a handsome redesign that is sure to stand out on every road. You can expect an equally more powerful and more efficient engine as well as improved performance. The interior brings new comfort features and more advanced tech. The 2023 HR-V also incorporates Honda's reliability standards and dependable safety ratings.
Register Now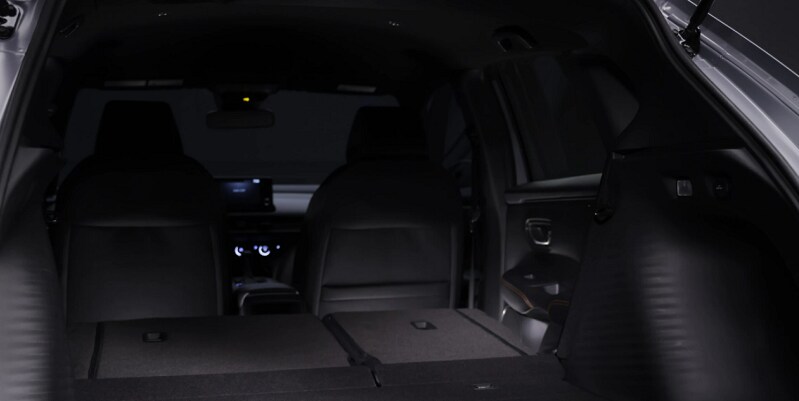 The interior of the 2023 HR-V is very roomy, with a seating capacity of five and ample cargo space. You get heated front seats, a moonroof, all-season floor mats, and a cargo tray. The available sports pedals provide a better grip, while the leather-wrapped steering wheel gives the interior a more upscale look. The new HR-V is also expected to have a Magic Seat feature that allows the second-row seats to easily fold to increase cargo space. The Utility mode even allows you to fold the passenger-side seat along with the rear seats to store long items. And with the Tall mode, you can lift the rear seats to store tall items.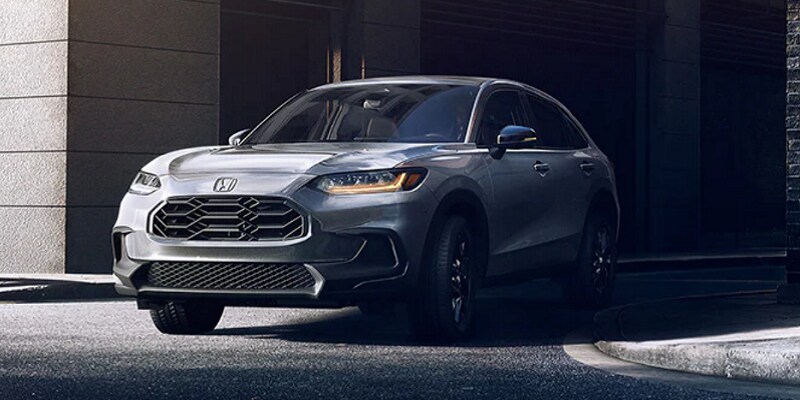 The exterior of the 2023 Honda HR-V is sleek and aerodynamic to boost performance and curb appeal. Its front will feature a more distinctive fascia with a lower hood and chrome front bumpers on the top trim. The black S-shaped honeycomb grille gives the vehicle attitude. The 2023 HR-V is expected to come with 18-inch alloy wheels to increase its sportiness. Window visors will increase your comfort when driving by reducing glare and wind noise. The available crossbars also boost the versatility of the HR-V by increasing cargo space options. Other exterior features include a gloss-black rear bumper, a tailgate spoiler, and fog lights. You can also expect LED daytime running lights and LED brake lights that increase visibility.
2023 Honda HR-V Performance
The 2023 HR-V is expected to come with a more powerful powertrain than the previous generation's 1.8-litre inline-four that developed 141 horsepower and 127 lb-ft of torque. The new engine will offer unbeatable fuel efficiency. Potential engine options include a 2.0-litre four-cylinder with 158 horsepower or a 1.5-litre four-cylinder with 180 horsepower. We will keep you up to date on the new 2023 HR-V's features as they get released!
2023 Honda HR-V Technology
The 2023 Honda HR-V will be equipped with plenty of intuitive tech features that will make your drive more interesting and fun. All trims come with a 7.0-inch infotainment touchscreen and an instrument panel for information display. You also get Android Auto and Apple CarPlay integration, Bluetooth capability, USB ports, and a multi-angle rear-view camera. The Sport trim and higher trims include the HondaLink feature for parking info and information display. Other available tech features include a navigation system, Wi-Fi, SiriusXM radio, climate control, electric parking brake, and push-button start.
2023 Honda HR-V Safety
The 2023 Honda HR-V safety features include its ACE body design that increases passenger protection during frontal collisions. The Honda Sensing Suite provides alerts to enhance driving and passenger protection. Safety features include collision mitigation braking, adaptive cruise control, road departure mitigation system, and lane-keeping assist system. Stop by our dealership to learn how you can finance a new HR-V.
Contact Number7 Honda for More Information
Contact us today to get more information about the upcoming 2023 Honda HR-V in Woodbridge, ON. Our team will be happy to schedule an appointment for you to test drive one of our Honda vehicles and experience them for yourself.